Ultimate Starter Kit Plus Digital - Scuba VBS 2024 by Group
Item #:
1210000333261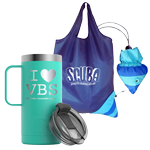 Pre-order your VBS 2024 Starter Kit & get a FREE gift!
Use code VBS24GIFT to receive a free VBS 2024 Tumbler or SCUBA24GIFT to receive a free Dive Bag when you pre-order your Starter Kit. Limit one per customer. Learn more >
ULTIMATE STARTER KIT + DIGITAL EDITION: It's like your Director's tacklebox! Use this starter kit to dive into friendship with God at Scuba VBS.
INCLUDES: Director and 13 leader manuals, media DVDs and CDs, training DVD, clip art CD, Decorating Places download, and a sample of the Bible Memory Buddies, Imagination Station Cew Teaching Kit, more
DIGITAL ACCESS: A Digital Download Access codes, found on the inside lid of the kit, includes all manuals, all MP3 songs and MP4 videos, training videos, Decorating Places videos, song lyrics in PowerPoint, and clip art.
Scuba VBS is an EZ VBS from Group Publishing.
VBS 2024 - Scuba VBS by Group Publishing
Frequently Bought Together
Please choose options for all selected products
Description

Your Starter Kit comes filled with everything you need to start planning a truly memorable Scuba vacation Bible school. The Ultimate Director Go-To Guide and Leader Manuals provide step-by-step instructions. Plus, you'll get student resource samples, volunteer resources, a Scuba catalog packed with program products, and essential media tools.

This kit includes physical resources and samples just like the standard starter kit, but it also comes with the Digital Download Access Pack. This access pack provides digital leader guides, music, videos and more. It opens up all-new ways to manage, share, and utilize your VBS content. The Scuba Ultimate Starter Kit Plus Digital allows you to deliver resources with the touch of a button. You can hand volunteers the manuals from your Starter Kit or e-mail pdf's so they can use whichever format feels most comfortable. The Plus Digital kit also safeguards against leaders who might lose that that ever-important Sing & Play manual at the 11th hour.

Due to copyright restrictions, any starter kit that is returned with the Digital Download Access Pack security seal broken will not be eligible for a refund.

Additional Information

Condition:

New

UPC:

1210000333261

Year:

2024

Age Level:

Children

Theme:

Scuba

Est Del Time Express:

2-3

VBS Category:

Director Resources

Product Category:

VBS

Filter Top Rated:

Staff Pick

Preferred Location:

SCLS

Item Callout:

New

Item Special:

Plus Digital Kit

Subitem:

VBS : 24 Group Easy

CS On Order Qty:

100

CS On Order Arrival Date:

12/22/2023
About Scuba VBS 2024
Grab your dive buddies for a whale of a good time! At SCUBA, kids plunge into an undersea world brimming with colorful coral, flashy fish and abundant life. Immersed in oceans of fun, kids discover God is a real friend who loves them forever! SCUBA VBS is a Bible-rich experience grounded in real hands-on, multi-sensory learning that kids will be talking about for years to come.
Group VBS
No matter which Group VBS program you choose, you'll get a fun, engaging, hands-on Bible learning experience that's easy to do and adaptable to your church's size and budget. Group VBS makes it easy for you to create your best VBS yet! All Group programs are field tested and designed with you in mind we do the work, so you don't have to!
Your Ultimate Starter Kit Includes:
Digital Download Access Pack: A card with a unique code providing access to a complete set of downloadable Scuba resources.
Scuba Ultimate Director Go-To Guide: The ultimate step-by-step resource for planning, recruiting, promoting, training and...well, everything a successful director needs.
Leader Manuals: The easy-to-use, field-tested guides make it a snap for your station leaders to lead kids through the best VBS experience ever!
ALL NEW Imagination Station Crew Teaching Kit: We've replaced the gizmos with an experience-rich Crew Teaching Kit. It includes 5 different sciency-fun experiences (one for each day) that will WOW kids, build relationships in their crews and make leading Imagination Station even easier!
Student Materials Sampler: Preview the awesome Bible-teaching resources designed exclusively for today's kids.
Music: Your kit includes the Leader Version of the Scuba music, featuring the full music CD, instrumental-only tracks, and song lyrics slide show.
Clip-Art: An awesome collection of graphic resources, guides, schedules, bulletin inserts and more!
Media: Your starter kit includes access to decorating videos with the Decorating Places Digital Download Code, Ultimate Director Go-To Recruiting and Training DVD, KidVid Cinema DVD, and the Sing & Play music DVD.
Missions and More: Your ultimate starter kit also includes a missions project sampler.