Mega Sports Camp - Conquer the Day
Conquer the Day 2017
Everyone wants to win at sports and at life, but what does it take to get to victory? Kids will discover five important things they can do to become winners as they Conquer the Day.
Mega Verse
"In all things we are more than conquerors through him who loved us." Romans 8:37
STARTER KIT
The flexible starter kit lets churches choose a VBS-like schedule or host their camp on days off school, summer Sunday school, or even as a back-to-school weekend. Choose as few or as many sports as you wish!
Save 10% + Free Shipping
$149.99 $134.10
YOUR STARTER KIT INCLUDES
Plan your own MEGA Sports Camp outreach with the Conquer the Day Starter Kit. You get everything you need to coach soccer, basketball, and cheerleading. Preschool to grade 6. Uses the NIV.
For the Director
Director Guide
Director DVD & CD-ROM
Poster Pack (8)
Art CD-ROM
For Volunteers
Rally Guide for Bible Sessions
Music & Media DVD and Music CD
Coach Huddle Guide
Evangelism Keepers
Cheerleading Playbook
Basketball Playbook
Soccer Playbook
NEW! Sports Basics (Preschool)
For Kids (Samples)
Sports Flash
Theme Keepers
Welcome to Holsom: Adventures in Faith
Water Bottle
T-shirt
MEGA Verse Wristband
OVERVIEW
Learn more about Mega Sports Camp.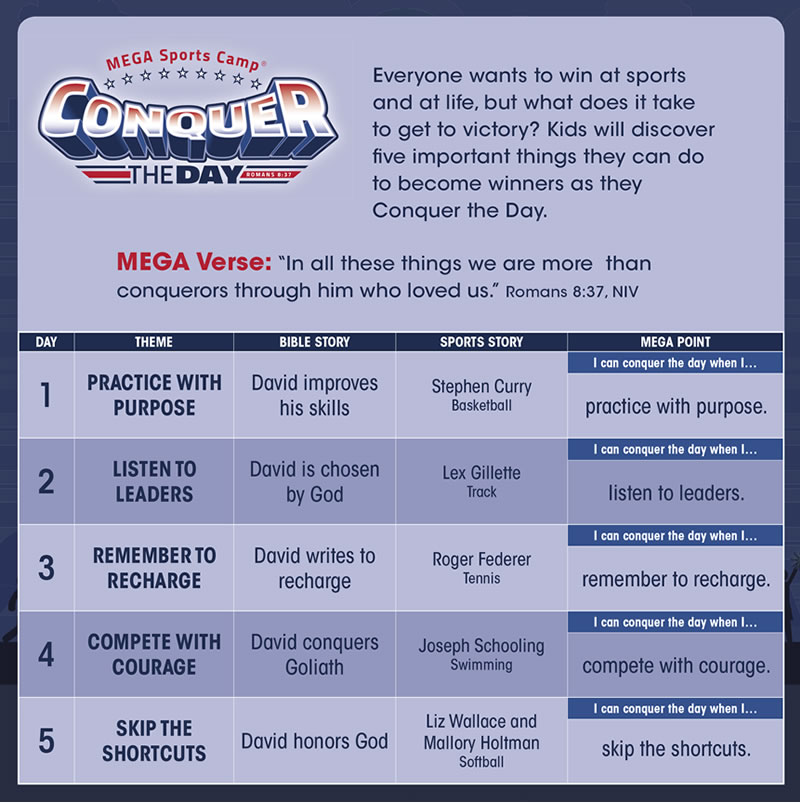 HOW IT WORKS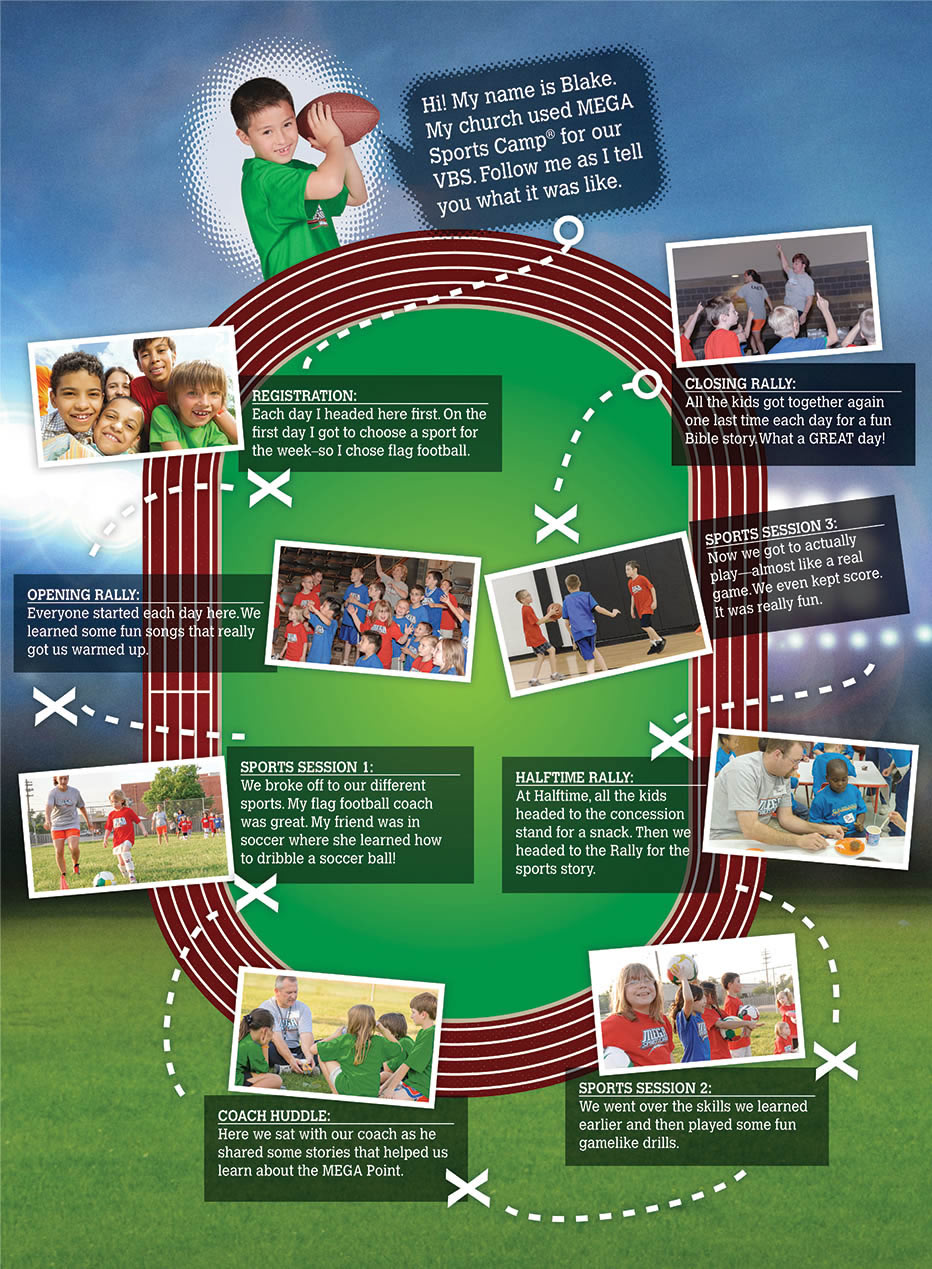 Sports Training
Kids love sports, which is why you may get up to 90 percent guests. Every day kids go to three sessions to learn new skills. Choose to offer just one sport or as many as you have coaches for.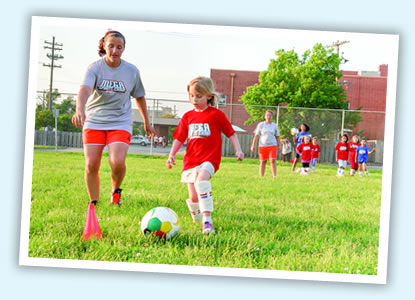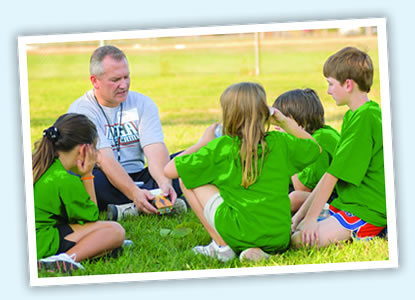 Coach Huddle Small Groups
A highlight for kids is connecting with their Huddle Coach for small group time. It's easy to get men who enjoy sports involved. Then men's involvement in kids' ministry often goes up after camp is over.
Large Group Rallies
Everyone comes together three times during the day for fun songs, sports stories, interactive Bible stories, and response time. On Day 4, often up to 20 percent of the kids ask Jesus into their lives. Volunteers tell us that's the best part of all.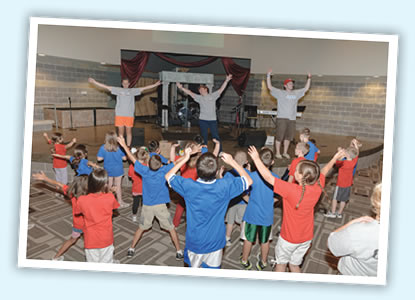 WHY CHOOSE MEGA SPORTS CAMP?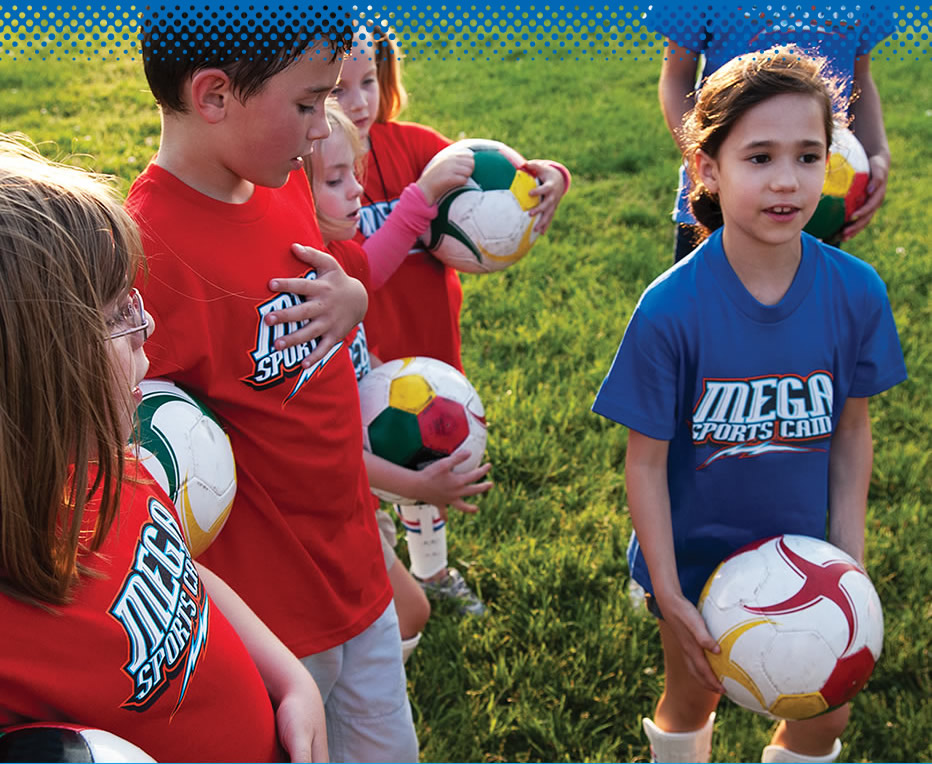 What makes Mega Sports Camp Outreach so special?
MEGA Sports Camp is a church-led, volunteer-friendly outreach that engages kids preschool to Grades 1-5 (or 6), while teaching them biblical principles.
Why do kids like it? Because it's fun! MEGA Sports Camp is an active outreach. Kids don't just sit and listen to someone talk about the Bible. They have a chance to play a fun sport, like football, while learning biblical principles. Having fun makes learning easy!
Why do pastors like it? It's flexible and easy-to-use, it doesn't break the budget, and the sports attract kids that don't even go to church.
It will change your kids, your church, and your community!
FREQUENTLY ASKED QUESTIONS
What is Mega Sports Camp?
This church-led camp uses sports to introduce elementary kids to Jesus and help them develop godly character. Targets kids in first through sixth grade.
How does MEGA Sports Camp combine sports and Bible learning?
Kids sing songs, hear Bible stories, and see cool object lessons in Bible rallies, then join their Huddle Coaches to reinforce the day's theme.
Do I have to be athletic to lead MEGA Sports Camp?
No. Just recruit one head coach per sport (up to 25 kids per head coach). The Playbooks tell them what to do. Everyone else can find a role they find comfortable—telling Bible stories, leading music, preparing snacks, and plenty more.
What sports does MEGA Sports Camp teach?
MSC provides curriculum for flag football, basketball, soccer, baseball, and cheerleading.
How does MEGA Sports Camp grow my church?
Kids love sports and they'll invite their friends, giving you built-in opportunities to connect with their families.
Is MSC easy for volunteers?
Yes. Responsibilities are divided, so everyone can work in the area where they feel comfortable. If needed, people can easily fill two roles. Everything you need to train volunteers is provided in your Director Guide and Director DVD and CD-ROM, included in the Starter Kit.
When can I use MEGA Sports Camp?
Year-Round! Summer VBS alternative, Weekly after-school program, Saturday mornings, Summer midweek program, Fall festival event, Winter days off school, Spring break, or on a Missions trip!
What if we don't have a gym?
Special facilities aren't necessary. Bring in portable basketball hoops. Teach soccer skills in a grassy area. Or go to your local park or school for an even bigger outreach.
Where do I start?
Order the Starter Kit
MUSIC